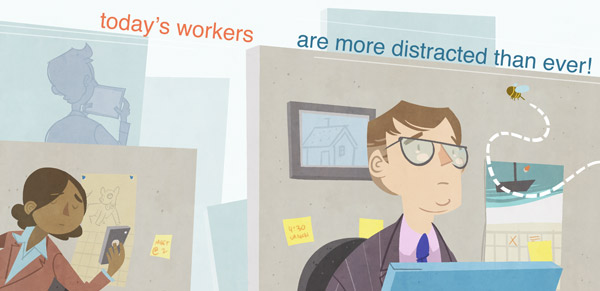 A recent Inc. article, The Kings of Concentration, warns business owners about the impact distraction can have on an organization. As you can imagine, lost productivity is the most costly side effect. According to the article, info-tech researcher Basex surveyed 1,000 office workers in 2005. It found that distractions cost U.S. companies nearly $600 billion per year in lost productivity.
Yet cognitive overload remains a real issue for managers – and those they manage. How can HR, executive coaches and leaders help others – and themselves – stay focused?
Notice when you're distracted

In Daniel Goleman's latest article for Human Resource Executive, he notes that a senior executive told him that "when his mind wanders during a meeting, he wonders what business opportunity he just missed." Take note of how often you check email or social media when you're stuck on a problem, or bored with a project. The same exercise goes for when you tune out during meetings.
Think about unplugging
Responding to endless alert chimes from apps, emails, or texts can be addictive. Try shutting your phone off, or closing a few windows on your computer screen for 30 minutes at some point during the day. Notice your productivity levels without the many electronic temptations.
Pay attention to attention
Try this exercise for a few minutes several times each day: select a single point of focus and resist the pull of anything else. It could be your breath, a picture on the wall, or a body sensation. When your mind wanders, just notice that. Bring your attention back to your focal point. This mental workout strengthens your brain's circuitry for concentration.
Create a productive cocoon
Focus is crucial when you're trying to come up with a creative solution. To help a person or team stay focused, carve out uninterrupted time for them to think, research, and plan.
Here are some other resources to help distracted leaders rein in their focus.
Articles:
What Mindfulness Is – And Isn't
Organizational Attention Deficit Disorder
The Two Biggest Distractions – And What To Do About Them
Resource Library:
Focus: The Hidden Driver of Excellence and Cultivating Focus: Techniques for Excellence – Daniel Goleman's latest book Focus: The Hidden Driver of Excellence uncovers the science of attention in all its varieties, presenting a groundbreaking look at this overlooked and underrated asset and why it matters enormously for how we feel, and succeed, in life. To answer the call for practical techniques to increase focus, Dr. Goleman created Cultivating Focus: Techniques for Excellence, a series of guided exercises to help people of all ages hone their concentration, stay calm and better manage emotions.
Working with Mindfulness –  Mirabai Bush, key contributor to Google's Search Inside Yourself curriculum, developed and narrates these attention training exercises for the workplace. The practices are designed to help reduce stress, increase productivity and encourage creative problem solving.
Relax: 6 Techniques to Lower Your Stress – Chronic stress can disrupt almost all of your body's processes. It's been shown to increase the risk of numerous health problems including heart disease, sleep issues, digestive complications, fatigue, depression, anxiety and obesity. Daniel Goleman developed Relax, a 45-minute audio program to help listeners effectively and naturally reduce stress. The guided relaxation program is especially beneficial to those with stressful jobs, or those managing teams in demanding work environments. The techniques are also useful for any number of everyday stressful situations or life transitions.