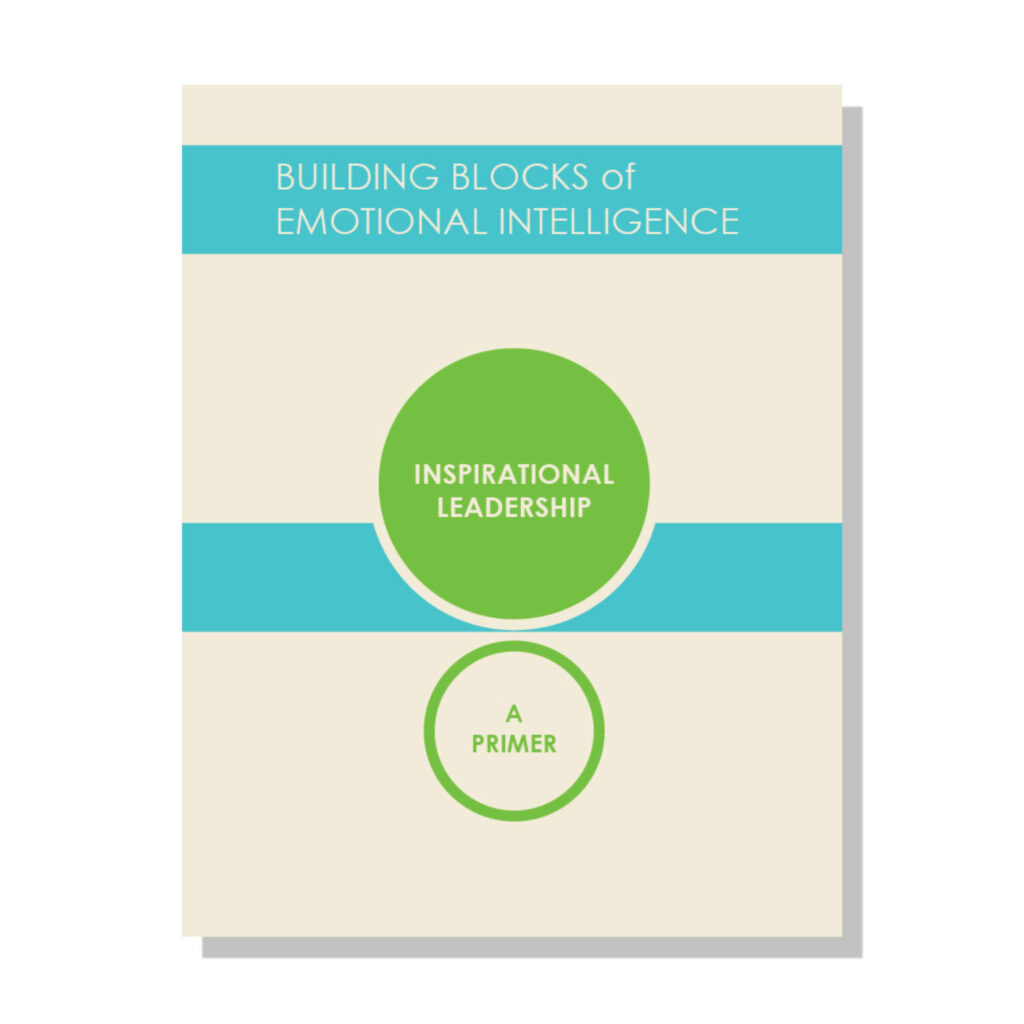 The Emotional and Social Intelligence competency of Inspirational Leadership means having the ability to inspire and guide others towards a common goal or vision, to get the job done, and to bring out their best qualities along the way. With inspiration you can connect with something meaningful, and articulate a shared mission in a way that motivates people and offers a sense of purpose beyond day-to-day tasks.
Inspirational leaders are agents of positive change, sometimes going against the grain of conventional norms or taking risks in their approach. These kinds of leaders ultimately leave the people they work with feeling inspired, motivated, and connected.
So how does one develop this competency? What does it look like in different contexts?
In Inspirational Leadership: A Primer, Daniel Goleman and colleagues introduce Emotional Intelligence and dive deep into the Inspirational Leadership competency. It's both a quick read and a thorough overview. The authors illustrate the values and styles of inspiring leaders, and offer concrete means for the reader to implement in order to elevate their potential for inspiring others.
This is the twelfth in a series of Primers that explores each of the 12 Emotional and Social Intelligence Leadership Competencies, with a thorough overview of the Competency Model itself.
Daniel Goleman, Richard Boyatzis, Annie McKee, Matthew Taylor, Mette Miriam Boell, Matthew Lippincott, and Claudio Fernández-Aráoz elaborate on the Inspirational Leadership competency: what it means, why it matters, what a variety of research studies have shown, and how to develop your capacity for Inspirational Leadership in both personal and professional settings.
Here's some of what's included:
Overview of Emotional Intelligence
Overview of the Competency Model in Leadership
Inspirational Leadership: An Introduction
The Basis of Inspirational Leadership
Inspiration and Our Noble Purpose
Coaching Leaders to Authentic Inspiration
Growing into Our Ability to Inspire
Systems Leadership as Inspirational Leadership
How to Become an Inspirational Leader
Whether you are an individual looking to elevate your personal performance, a coach or consultant in need of research-based resources, or a head of leadership development in your organization seeking a brief yet informative resource to share with your team, this Primer is for you.
NOTE: Individually sold primers are saddle stitched (stapled). Only the Full Collection Bundle is perfect bound.
Total length is 80 pages. Soft cover. Saddle-Stitched
Complete set of individual primer options in this series are:
Also available: Full Collection of 12 Emotional and Social Intelligence Leadership Competency Primers
About the Authors:
Daniel Goleman: internationally known psychologist and author of Emotional Intelligence, Social Intelligence, and Working with Emotional Intelligence, as well as a highly sought-after speaker on the topics of leadership, emotional intelligence, and mindfulness.
Richard Boyatzis: Professor in the Departments of Organizational Behavior, Psychology, and Cognitive Science at Case Western Reserve University and Human Resources at ESADE.
Annie McKee Ph.D.: a best-selling business book author and advisor to top global leaders, from CEOs of Fortune 50 companies to government officials in South Africa. In 2005, BusinessWeek named her in their Top 100 Leaders issue as an Executive Coach.
Matthew Taylor: Senior Director of Adaptive Leadership for the Achievement First Charter School Network.  In this role he coaches and trains a principal cohort and additional cohorts across the leadership pipeline on emotionally intelligent leadership.
Matthew Lippincott: specializes in complex business solution design and messaging for multinational organizations, with recently completed research in organizational leadership, emotional intelligence, and mindfulness.
Mette Miriam Boell Ph.D.: Co-Founder and Director of the Garrison Global Collaboration for Integrative Learning, specializing in the evolution of complex social systems, play behavior, and philosophy of nature.
Claudio Fernández-Aráoz: senior advisor of the leading executive search firm Egon Zehnder, Executive Fellow for Executive Education at Harvard Business School, and a top global expert on talent and leadership development.
<!- View not found ->