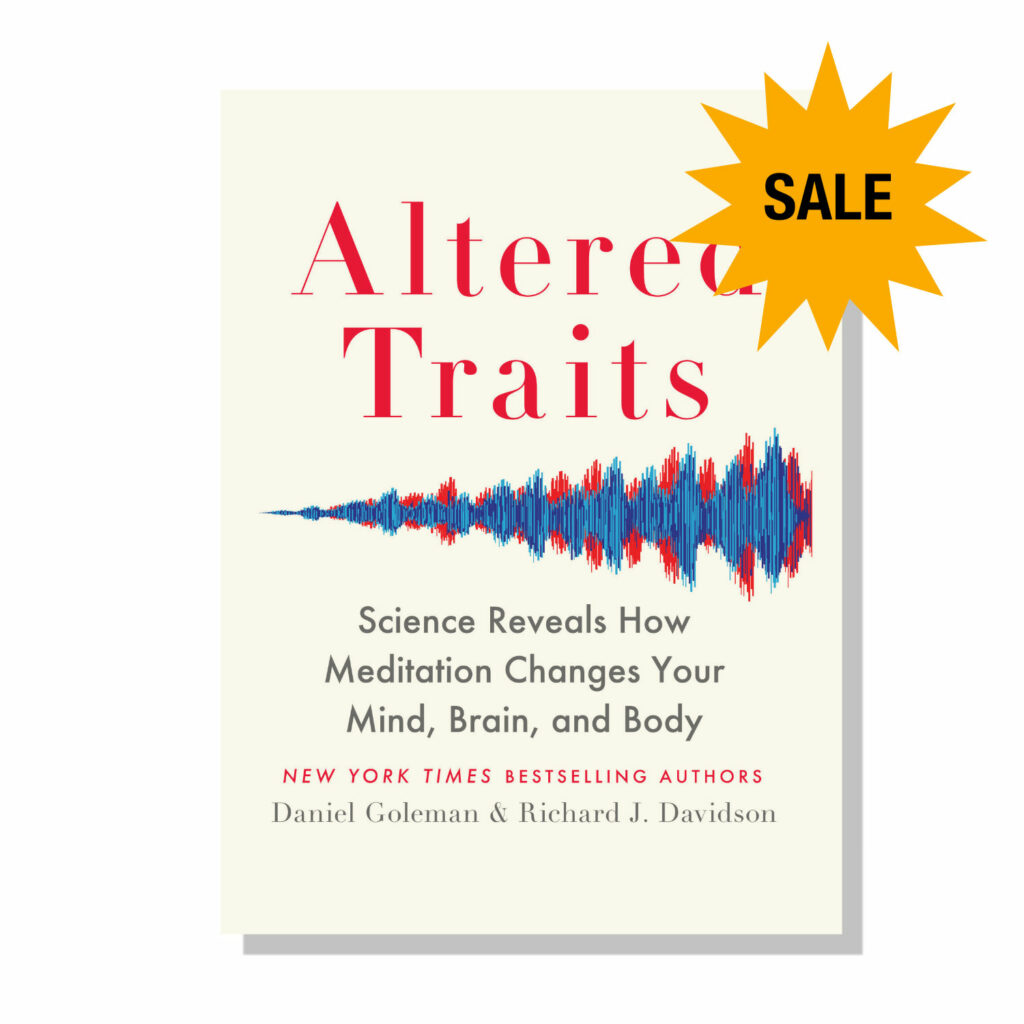 New York Times-bestselling authors Daniel Goleman and Richard J. Davidson unveil new research showing how meditation affects the brain. While you've likely seen countless publications touting the benefits of meditation, few have approached the subject from a probing research-based perspective, aiming to discern fact from fiction. That's exactly what the authors have done here. Read by Daniel Goleman in this audio version, you'll gain insights here that you won't find anywhere else.
Though Daniel Goleman and Richard J. Davidson have studied mindfulness and meditation for many years, they take an honest and objective step back to thoroughly review the top scientific literature existing on the subject to this day. Through thoughtful analysis of countless studies, they offer the truth about what meditation can really do for us, as well as exactly how to get the most out of it. At the heart of what the authors aim to impress upon readers and listeners is that beyond the pleasant states mental exercises can produce, the real payoffs are the lasting personality traits that can result. Here are some of the takeaways you'll gain from this book:
The fascinating personal history of these two prominent figures, spanning decades, careers, and continents
Understanding the deep vs. wide effects of varying degrees of practice
Cutting-edge research analysis about long-term meditators
The lasting impact of consistent meditation on the mind, brain, and body
What's myth and what's true about the impact of meditation
How to evaluate claims about the benefits of meditation
How meditation affects our emotional lives and relationships
The evolving history, development, and methods of measuring the effects of meditation
Via a highly readable combination of personal stories, research analysis, and scientific challenges, the authors write about this topic in a way that very few can.
They also reveal the latest data from Davidson's own lab, The Center for Healthy Minds at the University of Wisconsin. Those results point to a new methodology for developing a broader array of mind-training methods with larger implications for how we can derive the greatest benefits from the practice.
Exciting, compelling, and grounded in new research, this is one of those rare books that has the power to change us at the deepest level.
...
About the authors:
Daniel Goleman is the New York Times bestselling author of the groundbreaking book Emotional Intelligence. A psychologist and science journalist, he reported on brain and behavioral research for The New York Times for many years, and has received several awards for his writing. He is the author of more than a dozen books, including three accounts of meetings he has moderated between the Dalai Lama and scientists, psychotherapists, and social activists. Goleman is a founding member of the board of the Mind and Life Institute, a cofounder of the Collaborative for Academic, Social, and Emotional Learning, and codirector of the Consortium for Research on Emotional Intelligence in Organizations.
Richard J. Davidson, Ph.D., is the William James and Vilas Research Professor of Psychology and Psychiatry, director of the Waisman Laboratory for Brain Imaging and Behavior, and founder of the Center for Healthy Minds at the Waisman Center, University of Wisconsin, Madison. He received his Ph.D. from Harvard University in psychology and has been at Wisconsin since 1984. Davidson has published more than 320 articles, as well as numerous chapters and reviews, and edited fourteen books. His research has received many awards.
PRAISE
"A happy synthesis of the authors' remarkable careers, which grew from the intuition they shared as students that there was something deep and transformative about meditation, Altered Traits tells the story of what has been discovered since and why it matters critically at this moment on the planet."
""Jon Kabat-Zinn, author of Full Catastrophe Living and Mindfulness for Beginners
"This exquisite duet between a down-to-earth science writer and path-breaking neuroscientist is a tour-de-force, revealing how training the mind can transform the brain and our sense of self, inspiring us to create a greater sense of well-being, meaning, and connection in our world. Bravo!"
""Daniel J. Siegel, M.D., author of the New York Times best sellers, Mind and Brainstorm
 
"This is a book that really can change your life. Daniel Goleman and Richard Davidson not only show the power of meditation, but also the smartest way to practice for the maximum possible benefit. Altered Traits is your roadmap to a more mindful, compassionate, fulfilling life "" who doesn't want that?"
""Arianna Huffington, author of the New York Times best seller The Sleep Revolution
"Here is a message that is both powerful and joyful. Daniel Goleman and Richard Davidson reveal groundbreaking science showing how mindfulness and compassion practices can help each of us individually and, thus, the entire planet. One of the most exciting books I have read!"
""Chade-Meng Tan, author of the New York Times best sellers, Joy on Demand and Search Inside Yourself 
"In this engaging and well-researched book, Goleman and Davidson help us sort out the many claims now being made about the benefits of meditation. Drawing on their own long personal meditative experience and the ever-increasing number of scientific studies, Altered Traits breaks new ground in illuminating the power of meditation to transform our lives."
""Joseph Goldstein, author of Mindfulness: A Practical Guide to Awakening
"One of the world's most eminent psychological scientist and most gifted science writer have written the definitive book on the science of meditation. Rigorously researched and deeply illuminating, Altered Traits is a must-read for anyone interested in the hidden potential of the human mind."
""Daniel Gilbert, PhD, author of the New York Times best seller Stumbling on Happiness
"A remarkable collaboration between two brilliant and courageous pioneers, Altered Traits shares the scientific basis and practical realities of the remarkable impact meditation has on altering the mind. As I have personally experienced, regular meditation practice brings compassion, calm, and clarity for all of us, from beginners to experienced practitioners."
""Bill George, Senior Fellow, Harvard Business School; former Chair & CEO, Medtronic; and author of Discover Your True North
*Audio download must first be downloaded on a desktop to unzip, then you can easily transfer to any mobile device. This can also be purchased via iTunes or Audible.
<!- View not found ->