Emotional Balance, also referred to as Emotional Self-Control, is a competency under the Self-Management domain. People with strengths in Emotional Balance find ways to manage their impulses and emotions, even in stressful situations.
Developing Emotional Balance begins with a solid foundation of Self-Awareness, the heart of Emotional Intelligence. Self-Awareness enables us to recognize our emotions as they occur and the ways in which our emotions impact all aspects of our lives. Without Self-Awareness, we remain on autopilot and fall back on unquestioned behavioral responses and routines. In order to affect behavioral change, we must first become attuned to our emotions, and the ways in which they positively and negatively inform our lives.
Focus, a foundational skill for Emotional Intelligence, is intrinsic to a range of competencies, including Self-Awareness and Emotional Balance. In the workplace, leaders with strengths in Emotional Self-Awareness cultivate focused teams that are engaged and motivated. While there are several types of focus, including the ability to focus on others, which requires Empathy, and big picture focus, which is related to Organizational Awareness, inner focus is the most essential to the development of Emotional Balance.
Mindfulness or presence of mind, like inner focus, is condition of Emotional Balance. Mindfulness is that aspect of mind that acts as an inner rudder, alerting us to when we've deviated from our path in the moment. For example, if we are aware of a bad habit we have, like interrupting others, it is our presence of mind that catches us on the spot before we interrupt someone, sending us a subtle reminder or cue not to interrupt. Practices like meditation with focus, body scan, and self-reflection enable us to strengthen our concentration and awareness. By routinely tuning-in to our emotions and utilizing practices that familiarize ourselves with patterns in our reactions, we can cultivate Emotional Balance.
In this way, self-awareness, focus, and mindfulness serve as the three, interconnected skills that enable us to exercise Emotional Balance. While it may seem intimidating to develop each of these skills, their interdependence makes it easier to turn progress in one area into positive development across all three. Similarly, just as Self-Awareness and Emotional Balance are foundational to Emotional Intelligence, they can open doors to strengthening our Emotional Intelligence across the suite of twelve EI competencies.
Recommended Resources: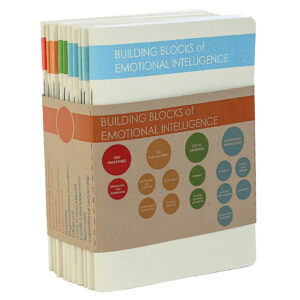 If you would like to learn more about the fundamentals of Emotional Intelligence, our series of primers focuses on the twelve Emotional and Social Intelligence Leadership Competencies, which include Emotional Self-Awareness, Emotional Self-Control, and Empathy. The primers are written by Daniel Goleman and Richard Boyatzis, co-creators of the Emotional and Social Intelligence Leadership Competency Model, along with a range of colleagues, thought-leaders, researchers, and leaders with expertise in the various competencies. Explore the full list of primers by topic, or get the complete collection!