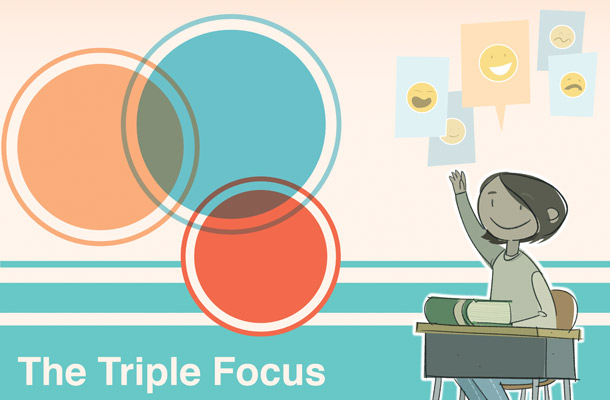 Daniel Goleman addressed the importance of adopting attention-training strategies in the classroom at today's Learning and the Brain conference in Boston.
Focused, Organized Minds: Using Brain Science to Engage Attention in a Distracted World explored how today's technology is creating more classroom distractions and disorganization. Yet, academic testing and Common Core State Standards require students to be more focused and organized in order to succeed.
We followed attendee's enthusiastic commentary about Dr. Goleman's presentation on Twitter. Below are some highlights from #LB39 feed, with excerpts from a few of Daniel's articles for supplemental reading.
There are deeply rooted beliefs in education that overly favor IQ over EQ #LB39
There's no doubt that IQ and motivation predict good grades. But when you enter the working world, IQ plays a different role: it sorts people into the jobs they can hold. Stellar work in school pays off in getting intellectually challenging jobs.
#lb39 @DanielGolemanEI Attention is a mental muscle – we can strengthen it.
The more a youngster can practice keeping her focus and resist distraction, the stronger and more richly connected this neural real estate becomes. By the same token, the more distracted, the less so.
This mental ability is like a muscle: it needs proper exercise to grow strong. One way to help kids: give them regular sessions of focusing time, the mental equivalent of workouts in the gym. I've seen this done in schools, with second-graders becoming calm and concentrated with a daily session of watching their breath – the basic training in bringing a wandering mind back to a single focus.
#LB39 Amygdala Highjack – We can only pay attention to what we think is threatening. @DanielGolemanEI @learningandtheb
The brain's wiring gives preference to our emotional distractions, creating pressing thought loops about whatever's upsetting us. Our brain wants us to pay attention to what matters to us, like a problem in our relationships.
With digital devices, we process 5 times more info than before according to @DanielGolemanEI at #LB39
There is now quite a bit of evidence to indicate that the circuits in the brain that play a role in regulating our attention, and very rigorous behavioral measures of attention, change in response to mindfulness meditation practice. One of the central indices of that change is our capacity to not be hijacked by distracting events in our environment, particularly distracting emotional signals, which often pull us away from our task at hand.
Additional resources:
The Triple Focus: A New Approach to Education
Focus for Kids: Enhancing Concentration, Caring and Calm
Focus for Teens: Enhancing Concentration, Caring and Calm
Bridging the Hearts and Minds of Youth Conference Videos – 2012 and 2013