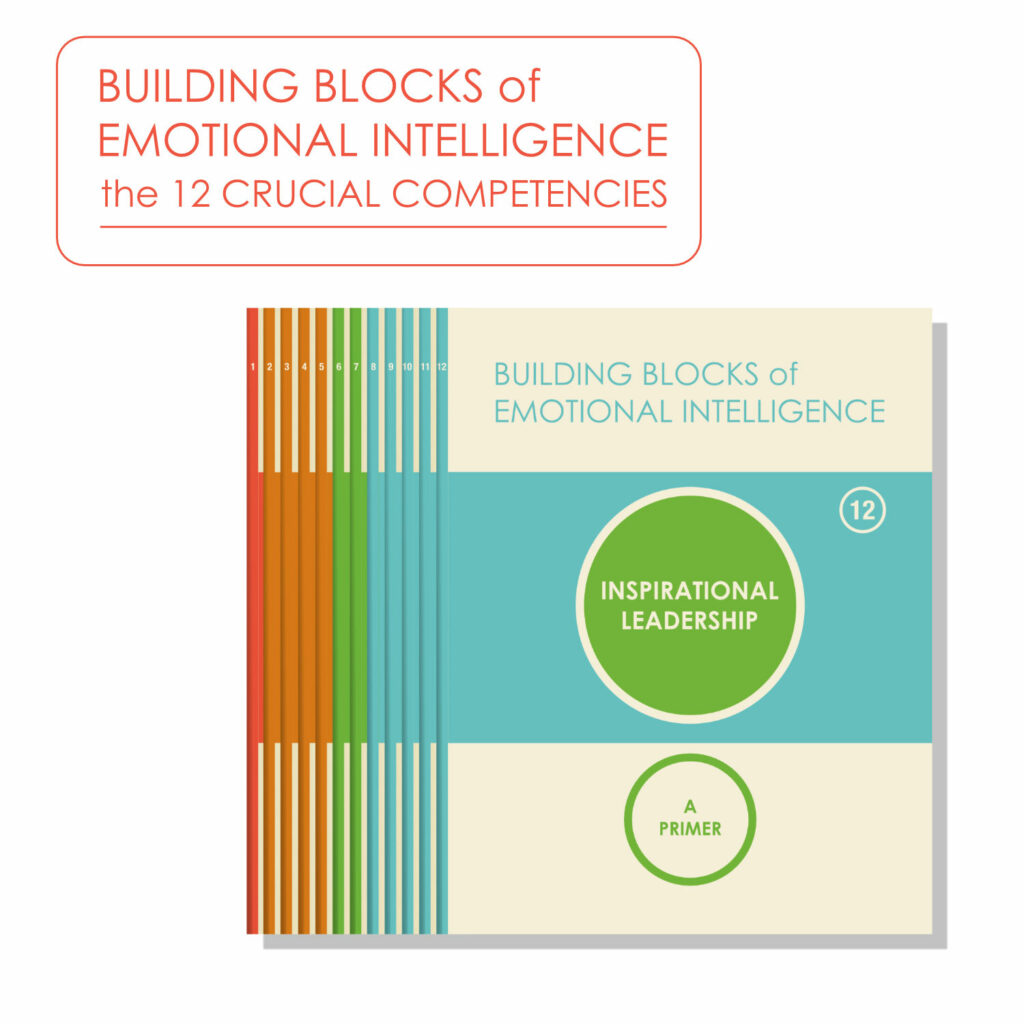 Building Blocks of Emotional Intelligence: A Series of Primers
The Building Blocks of Emotional Intelligence complete bundle features a brand new perfect binding. Individually sold primers will continue to be saddle-stitched.
In Building Blocks of Emotional Intelligence: A Series of Primers, Daniel Goleman and colleagues introduce Emotional Intelligence and each of the 12 Emotional and Social Intelligence Leadership Competencies, with an overview of the Competency Model itself.
These brief yet informative resources on Emotional Intelligence Competencies are ideal for individuals looking to elevate their personal performance, consultants and coaches in need of research-based resources, or heads of leadership development in organizations.
Daniel Goleman, Richard Boyatzis, and 13 other thought leaders who are championing research in this field explain the Emotional Intelligence Competencies: what they are, why they matter, and how to develop them.
Total length of each primer varies from 56 to 80 pages, plus citations. Soft cover.
About the Authors:
Daniel Goleman: internationally known psychologist and author of Emotional Intelligence, Social Intelligence, and Working with Emotional Intelligence, as well as a highly sought-after speaker on the topics of leadership, emotional intelligence, and mindfulness.
Richard Boyatzis: Professor in the Departments of Organizational Behavior, Psychology, and Cognitive Science at Case Western Reserve University and Human Resources at ESADE.
Vanessa Druskat: internationally recognized expert and consultant on group emotional intelligence and Associate Professor of Organizational Behavior and Management at the Peter T. Paul College of Business and Economics at the University of New Hampshire.
Richard J. Davidson: Founder and Chair of the Center for Healthy Minds, University of Wisconsin-Madison and New York Times bestselling author of The Emotional Life of Your Brain.
George Kohlrieser: organizational and clinical psychologist and Professor of Leadership and Organizational Behavior at the International Institute for Management Development (IMD) in Switzerland.
Annie McKee Ph.D.: a best-selling business book author and advisor to top global leaders, from CEOs of Fortune 50 companies to government officials in South Africa. In 2005, BusinessWeek named her in their Top 100 Leaders issue as an Executive Coach.
Mette Miriam Boell Ph.D.: Co-Founder and Director of the Garrison Global Collaboration for Integrative Learning, specializing in the evolution of complex social systems, play behavior, and philosophy of nature.
George Pitagorsky: a multi-disciplinary coach, consultant, author, and speaker with expertise in project management and performance improvement, as well as a teacher of mindfulness meditation.
Michele Nevarez: an HR Executive, an adjunct faculty member for Cultivating Well Being in the Workplace: A Neuroscientific Approach, specializing in coaching highly-driven executives and Positive Organizational Development and Change.
Matthew Lippincott specializes in complex business solution design and messaging for multinational organizations, with recently completed research in organizational leadership, emotional intelligence, and mindfulness.
Ann Flanagan Petry is a Positive Organizational Development Consultant, Coach, and Senior Director of Content Strategy and Wellbeing for the Coaching for Emotional and Social Intelligence Training Program.
Peter Senge: senior lecturer in Leadership and Sustainability at the MIT Sloan School of Management. He studies decentralizing the role of leadership in organizations so as to enhance the ability of employees to work productively toward common goals.
Matthew Taylor: Senior Director of Adaptive Leadership for the Achievement First Charter School Network.  In this role he coaches and trains a principal cohort and additional cohorts across the leadership pipeline on emotionally intelligent leadership.
Amy Gallo: Author of the HBR Guide to Dealing with Conflict and a contributing editor at Harvard Business Review, where she writes about workplace dynamics.
Claudio Fernández-Aráoz: senior advisor of the leading executive search firm Egon Zehnder, Executive Fellow for Executive Education at Harvard Business School, and a top global expert on talent and leadership development.
<!- View not found ->