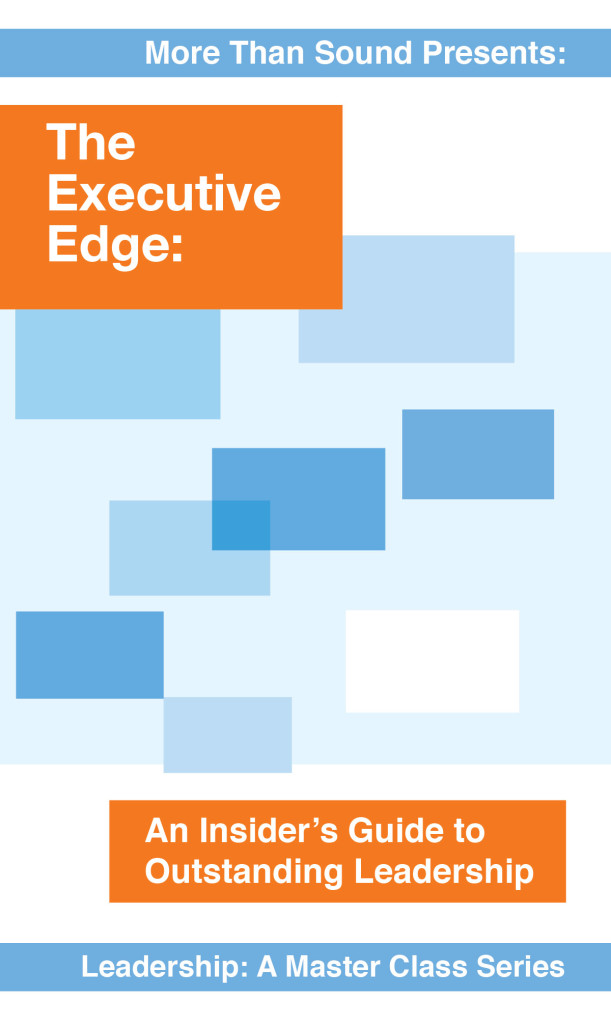 The following is an excerpt from The Executive Edge: An Insider's Guide to Outstanding Leadership.
Leading Through Change
Daniel Goleman: The main task of so many leaders today is leading change. And there's a saying""which I'm not sure is true""that people resist change. But how can this insight about the mind's eye and so on help a leader make the change that they're trying to make?
George Kohlrieser: Well, this is one of the very destructive myths around""that people naturally resist change. They do not naturally resist change. They resist the pain of the change. They resist the fear of the unknown. Now, the brain naturally is going to seek""be curious, explore, do new things""and it actually creates new neurons. It's how the brain thrives. But to do that, you have to feel safe. You have to be able to have your survival needs taken care of. So when you're defensive, you can't change. When you feel safe enough, then you go out and you want to explore. That's what a leader has to do. A leader has to be able to give that trust, that sense of security, and then explosions of creativity will occur.
The failure for many leaders is that they are creating negative states in other people because they're in a negative state. They cannot hold on to the positive energy, the positive focus, and change is painful. We're not denying that, but with the flashlight""the mind's eye""you have to seek beyond the pain, beyond the frustration, to what the opportunity is. And you know the great stories of people in life who had catastrophes""personally, professionally""who have been able to overcome it by seeing opportunity. They can live with what they have and be able to get beyond setbacks, so that in the end they come back to the joy of life.
Goleman: It seems what you're saying that if a leader is held hostage by his or her emotions, it really limits that leader's potential. How can you tell if you are being held hostage, and what can you do about it?
Kohlrieser: Well, you can tell when you're playing life defensively as opposed to playing offensively. Playing to win is a special attitude. This does not mean competition. It means that you take the right risks at the right time. You focus the mind's eye on possibilities and opportunities""not on regrets and fears. Anytime you're speaking about yourself""or people, or life""with a sense of regret, a sense of complaining, a sense of you are not able to do what you want, then the possibility is very strong that you are held hostage. So you can be hostage to a person, to a place, to an event, to an experience, to a memory.
And a highly performing leader who isn't held hostage is always thinking of talent development. For instance, how can I learn something new? How can I expand what I already know? And using Ericsson's research, we know that you need 10,000 hours of practice. But to be able to do that, you can't be held hostage by frustration, by failure, by all the things that stop you. You need to be able to practice correctly"""deliberate practice," he calls it""and do that over and over again, without complaining. Enjoying learning a musical instrument, learning a language, or learning something new regarding how you deal with people. And emotional intelligence provides the greatest learning there is: discovery of people. People are really wonderful! But they're also complex.
Then lastly, having somebody to help teach you""a mentor or coach""who is emotionally intelligent and can help develop your talent. Then you can stop feeling like a victim. I think when people haven't gotten over something, when they feel like victims, there's something wrong in the way they're looking at life. It's in the mindset, and the most powerful thing that we have is our mindset: having that be clear and focused, and being adaptable and being flexible, and always being willing to learn.
About The Executive Edge
The Executive Edge: An Insider's Guide to Outstanding Leadership examines the best practices of top-performing executives. It offers practical guidance for developing the distinguishing competencies that make a leader outstanding.
Every leader needs threshold abilities to get by at work. But in today's complex business landscape, getting by isn't enough. It's the distinguishing competencies that are crucial for success. You need elements that will give you "the executive edge."
As a collection of Daniel Goleman"˜s in-depth interviews with respected leaders in executive management, organizational research, workplace psychology, negotiation, and senior hiring; The Executive Edge contains the necessary research findings, case studies, and shared industry expertise every motivated leader needs.
Available in print and on Kindle, iTunes and nook.
You might also be interested in:
Thriving on Change: The Evolving Leader's Toolkit
Leadership: A Master Class Training Guide