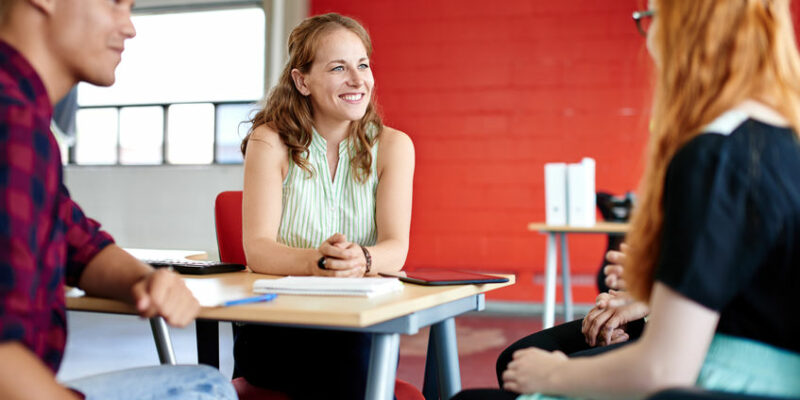 How Leaders and Coaches Cultivate Purpose at Work
March 27, 2018 Time to read:

4

min.
On Satya Nadella's first day as CEO of Microsoft, he sent a letter to every employee. He started it by explaining what drew him to work at this company – and why he stayed. He shared his belief that his work at Microsoft could help make the world a better place. He ended the letter with an invitation to each employee to, like him, find meaning in their work.
Finally, I truly believe that each of us must find meaning in our work. The best work happens when you know that it's not just work, but something that will improve other people's lives. – Satya Nadella
Nadella could have focused on market share or share price, or the need to stay nimble in an extremely competitive industry, but he didn't. He chose to cut through the noise of all that and focus instead on something deeply personal and heartfelt: finding one's meaning and purpose at work.
As it turns out, Nadella's intuition, to direct his employees to discover the deeper meaning of their work, – was coming from his own inner need for meaning amidst personal experiences of tragedy. He says he owes the deep clarity of purpose he has found to his eldest child, Zain, 21, who is severely disabled. He was born weighing only three pounds, having suffered asphyxiation in utero; as a result, he is visually impaired, has limited communication, and is quadriplegic. Zain's journey is a constant reminder of what really matters in life.
In fact, Nadella believes meaning and empathy are core to the innovation agenda of the company. He seems to have unleashed something very powerful within Microsoft employees. Under Nadella's watch, the company has transformed rapidly, shifting focus from the Windows business to newer technologies including cloud computing and artificial intelligence. In 2017 alone, Microsoft's shares jumped 35%, the highest in the company's history.
What makes Nadella such a relatable and compelling leader is his ability to help his employees engage at work in a way that feels profoundly different.  Jobs are more than tasks, they are meaningful contributions which will make a difference in the lives of others. He helps his employees tap into their unique contribution to improving the world.
Why meaning at work matters
People who say their work is meaningful and/or serves some greater social or communal good report feeling a greater sense of wellbeing, and possess important qualities organizations need and want. For example, people who find meaning in their work tend to work harder, and are more innovative, creative, engaged, and impactful team members.  (Arnold, Turner, Barling, Kelloway, & McKee, 2007; Sparks & Schenk, 2001).
Millennials are 5.3X more likely to stay when they have a strong connection to their employer's purpose.
73% of employees who say they work at a "purpose-driven" company are engaged, compared to just 23% of those who don't (PwC 2016).
Companies like Microsoft understand that when employees believe their work has meaning they are more committed, creative, and innovative. Indeed, when employees can see their connection to a higher calling it unleashes positive energy and motivation. Catalyzing innovation and teamwork is at the heart of success.
Leaders and coaches can help employees see meaning in their daily work.
Unfortunately, fewer than a third of business leaders help employees connect their own purpose to the work of the company. This is a huge lost opportunity.
It's a myth that finding meaning in our work requires giving everything up to pursue some lofty "other" career. The truth is that no matter what job you hold there are opportunities to tap into meaning and purpose. Leaders and coaches can help employees understand the important contribution they are making right now, by showing how we are all interconnected and interdependent.  For example, the manager who reminds the line technician that the power line he connected is enabling a child dependent upon an oxygen machine to breathe more easily.  Or the supervisor who points out to the call center employee that she helped someone secure travel in time to be with family for a joyous occasion.
Even people who work in professions which seem full of meaning, such as healthcare or education, often experience a lack of meaning and purpose. However, there are practices which can help anyone reconnect to meaning in their work no matter what job they have.
To discover more meaning in your work try this:
Think of three things that happened during the day that went well and your unique contribution in the positive outcome, then jot down those three things.
According to research, best results for this exercise come after fourteen consecutive entries, so be consistent and give it a little time to take effect.
This practice helps you to focus on the meaningful events of your day and what your unique contribution was to the event.  By doing this practice you learn to tune in to moments that may otherwise be overlooked but are quite significant when it comes to meaning and purpose. Research shows that paying attention to three good things each day builds deeper sense of meaning and wellbeing and fosters a mindset of gratitude.
As a coach or leader, you can develop additional ways to help connect your employees to meaning based on the unique offerings of your business. What is the ultimate benefit to your clients or customers? Does someone experience greater health, happiness, or fulfillment as a result of your work or products? If so, clarify what that benefit is, and remind your employees what's at stake, and how their role contributes. Finally, it helps to give employees an opportunity for ownership of work projects. If they can initiate ideas and follow through on them to see the ultimate results, that is an incredibly powerful motivating factor to further connection and engagement, and ultimately materialize in elevating the greater good.
Recommended Resources: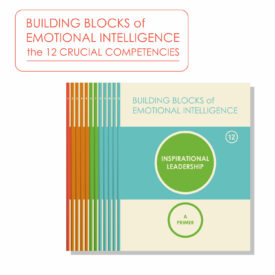 If you would like to learn more about the fundamentals of Emotional Intelligence, our series of primers focuses on the twelve Emotional and Social Intelligence Leadership Competencies, which include Coach and Mentor, Inspirational Leadership, and Teamwork. The primers are written by Daniel Goleman and Richard Boyatzis, co-creators of the Emotional and Social Intelligence Leadership Competency Model, along with a range of colleagues, thought-leaders, researchers, and leaders with expertise in the various competencies. Explore the full list of primers by topic, or get the complete collection!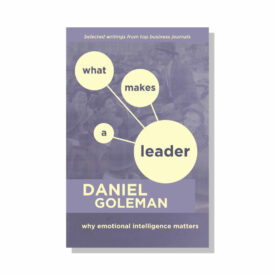 For more in-depth reading on leadership, What Makes a Leader: Why Emotional Intelligence Matters presents Daniel Goleman's ground-breaking, highly sought-after articles from the Harvard Business Review and other business journals in one volume. It features more than half a dozen articles, including "Reawakening Your Passion for Work."
<!- View not found ->