Welcome to the More Than Sound podcast.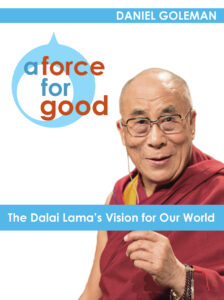 [display_podcast]
The Empathy Gap
Daniel Goleman shows us how compassion repairs social inequalities in the world. This is an excerpt from his audiobook""A Force for Good: The Dalai Lama's Vision for Our World. Available from morethansound.net.
Each day this week (June 22 to 26), More Than Sound will release an exclusive excerpt from the audiobook.
Order the print book here.
Join the Force for Good initiative here.
Become a member of A Force for Good LinkedIn group here.
About A Force for Good
Daniel Goleman's A Force for Good: The Dalai Lama's Vision for Our World highlights the Dalai Lama's core beliefs, presents evidence that supports their relevance, and explains how these can be applied to promote a better future.
With specific advice for implementation, Goleman and His Holiness explain how compassion can be used to:
Educate the heart by teaching ethics, conflict resolution, and compassionate values in schools.
Help people help themselves by empowering the world's most vulnerable.
Rethink economics and make business meaningful, not just profitable.
Heal the Earth through a more precise analysis of how to lessen our impacts.
Be compassionate with others and yourself.
Be tough in applying transparency and accountability in the service of fairness.
Act now to help those in need in whatever ways you can.