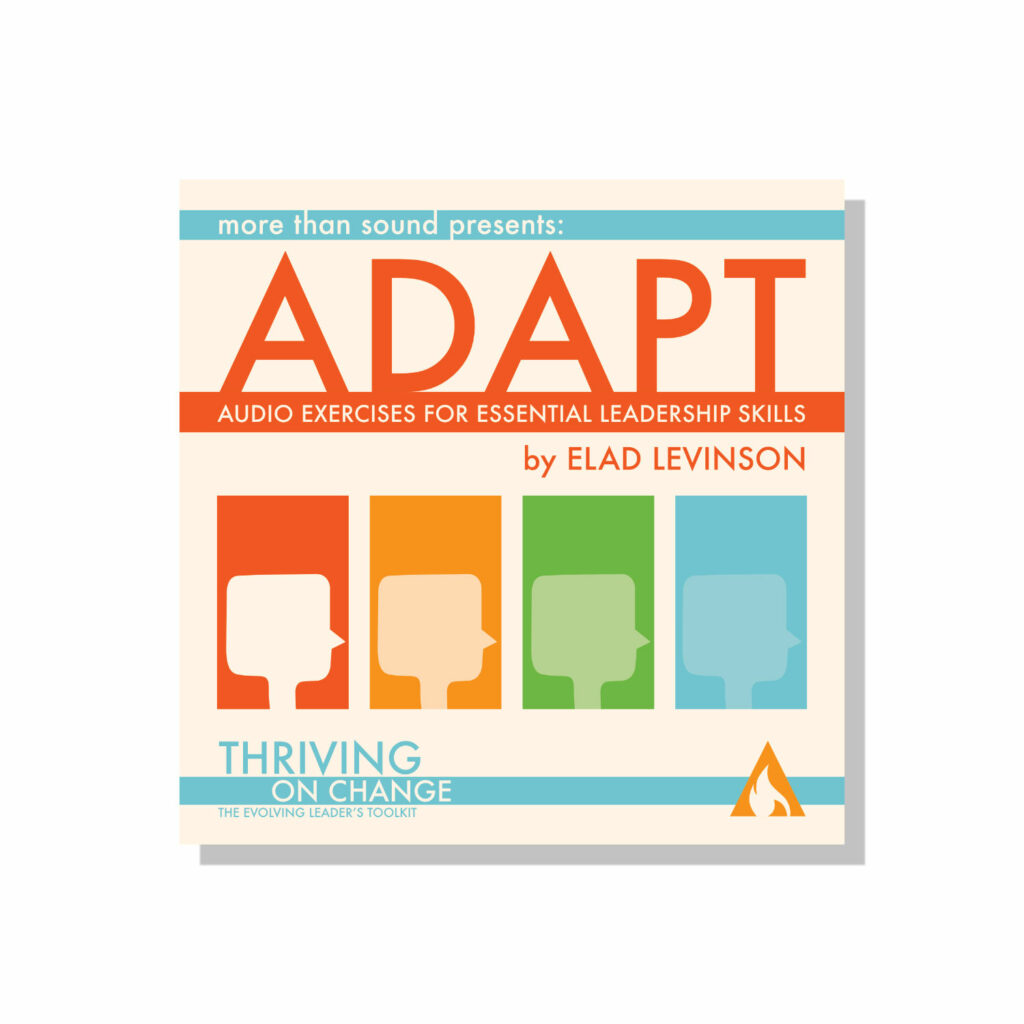 Adapt: Audio Exercises for Essential Leadership Skills
Format:
Audio Download
Audio Download
Adapt: Audio Exercises for Essential Leadership Skills is a series of exercises to help you develop focused attention, goodwill, and mindful awareness. These exercises were created and recorded by Elad Levinson for his online course, Thriving on Change. Each is a practical tool for developing emotional intelligence. Daniel Goleman's model of emotional intelligence includes four domains: emotional self-awareness, emotional self-control, social awareness, and relationship management. Adapt's audio exercises are organized into groups that correspond with each of these domains.
To develop Emotional Self-Awareness, practice:
Mindfulness of the Breath
Hearing Awareness
Full Body Awareness
Noticing and Naming
River Practice
Gathering Attention
To develop Emotional Self-Management, practice:
Lift Off and Place
Sit and Stay
Brightening the Mind Through Cultivating Positive Emotions
Generating Goodwill toward Self
To develop Social Awareness, practice:
To develop Relationship Management, practice:
About Elad Levinson
Elad Levinson is an expert in applying neuroscience and cognitive sciences to leadership effectiveness. With over 35 years in leadership roles all areas of organization -- private, public, for-profit, not-for profit, he has held senior management positions at Agilent Technologies, ICANN, and Stanford University. He's currently a senior adviser at 4128 Associates, a director at Spirit Rock Meditation Center, and the head instructor for Praxis You's Thriving on Change. Levinson has a Bachelor's in Psychology from San Francisco State University and a Masters in Organization Development and Community Building from Adelphi University. He is deeply experienced in mindfulness and focus training applied to daily life, trauma reduction, business and work place coaching, men's therapy, career consulting for career crossroads, and difficulties in school caused from being a "different" kid. In addition to his numerous career ventures, Levinson is also a longtime Buddhist practitioner.
<!- View not found ->