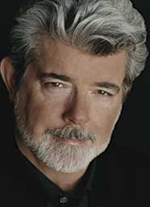 George Lucas
"A director makes a hundred decisions an hour. Students ask me how you know how to make the right decision, and I say to them, 'If you don't know how to make the right decision, you're not a director.'"

– George Lucas
George Lucas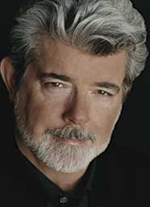 George Lucas is – of course – the world famous director of the Star Wars and the Indiana Jones movies. He studied cinematography of the University of Southern California, where Francis Coppola Ford took an interest in him and helped him enter the film industry. Although his first film failed, he released American Graffiti in 1973, which turned out to be a huge success. Produced for only $780,000, it grossed $50 million and was nominated in five categories in the Academy Awards that year.
After American Graffiti, Lucas created Star Wars. In 1977, Star Wars – produced for $11 million – grossed over $513 million. After the phenomenal success of this film, he continued to direct The Empire Strikes Back (1980) and The Return of the Jedi (1983). During all of this, he created his special effects company, Industrial Light & Magic (ILM) and sound studio, Skywalker Sound. ILM brought the dinosaurs of Jurassic Park to life, and he created many more Star Wars prequels.
In addition to being an acclaimed and proficient filmmaker, Lucas has also spent a lot of time pursuing his passion for improving education. He created the George Lucas Educational Foundation the early 1990s – with Edutopia and Lucas Education Research as its subdivisions – encouraging the use of project- and team-based learning.
Facebook     â—Š     Twitter     â—Š     LinkedIn
At More Than Sound, Lucas is a contributor in Daniel Goleman's Wired to Connect – Dialogues on Social Intelligence. In Lucas' segment, Rethinking Education: Educating Hearts and Minds, the pair discuss how teachers can break down barriers between kids that create destructive behavior, utilize contemporary culture to make learning meaningful for today's youth, and foster in students the optimal neural state for receiving and retaining information.
â—Š
Other Publications:
Lucas has an extensive list of works, and his Amazon page can be found here.
+ Read more
Related products