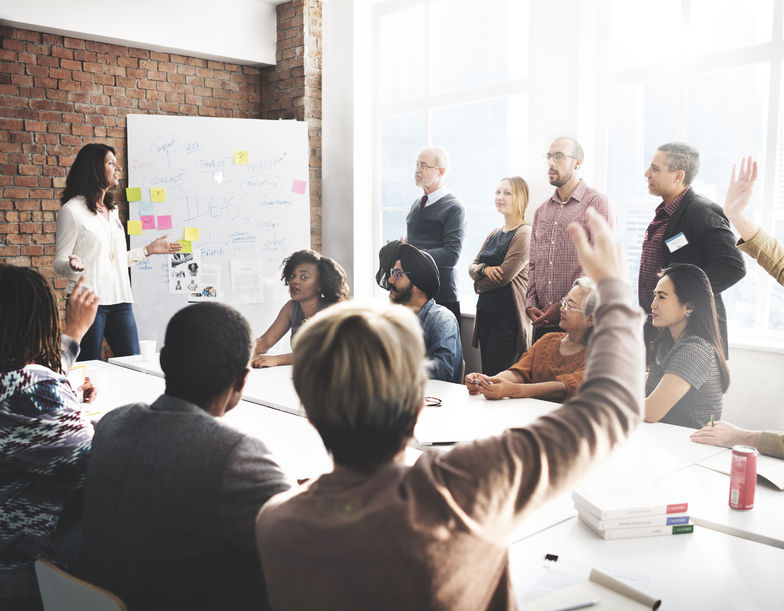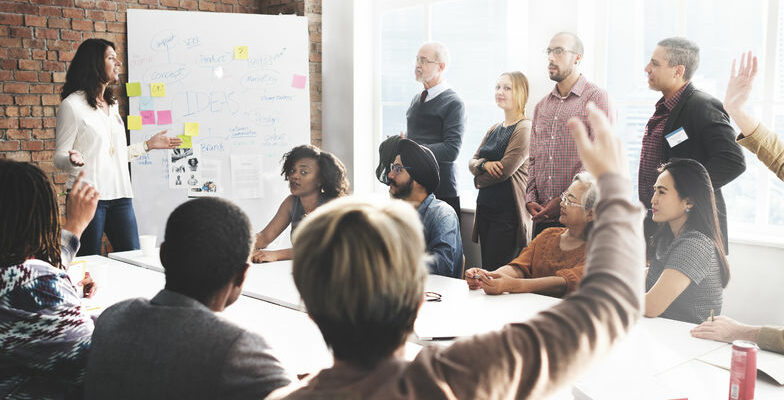 Coaching Leaders to Value and Manage Their Organizational Webs
July 20, 2017 Time to read:

4

min.
DeLea is like a spider, aware of even the most subtle vibrations across her web.   She is able to predict how emotional energy will travel across her organizational web of stakeholders when she makes a leadership decision.
When one of her senior managers denies her proposal to implement a progressive reading practice in her school, she positively engages her powerful allies across her web to build support for the new practice.  Meanwhile, she re-engages her manager at the level of values and beliefs that she knows they both hold dear.  As a result, the no turns into an enthusiastic yes in weeks.  On her own team, DeLea meets individually with key influencers about the new practice to hear their point of view and subtly appeal to what they value.  When it comes time to formally make her pitch to her team, many strong voices in the room voice their enthusiastic support.   Weeks later when DeLea hears secondhand about a veteran teacher voicing frustration about the practice in the staff lounge, she knows exactly which teachers, support staff, and parents to engage to head off a potential setback. She also engages the teacher in question with the just-right blend of affirmation and high-candor feedback to begin shifting his resistance.
Isabel, a leader at another school, is like a fly caught in a web.  She skillfully builds the schedule and transition protocols for her school's extended day program makeover.  However, it never occurs to her to question how people will feel about the new program.  She never asks anyone for feedback or shares any details about the plan until unveiling it in a Friday staff meeting. On Monday she is surprised to hear gossip about how she treats people and how arrogant she is to just "take over" the extended day program.   Hurt and disoriented, Isabel just didn't see this coming, and she feels like she's been ambushed.   Isabel has a new appreciation for those who say that leadership is a lonely path.
What separates DeLea and Isabel is organizational awareness. 
DeLea values her team's emotional energy.  She reads people, trusts her gut, and actively seeks information about people's beliefs before she acts.   Isabel doesn't value her team's emotional energy and so does none of the things that DeLea does to guide her actions.
How do you teach Isabel to be like DeLea?
The first step is to build Isabel's awareness that the web exists, and that her success depends on her understanding how it works.  Expect resistance!  Leaders who aren't aware of the web and don't value it tend to believe that small interactions don't matter, and that people won't find out about what they say behind closed doors.
Some take a values stand against caring about the web.  They won't stoop to paying attention to gossip.  People should just be adults and get over their own emotional reactions.   These leaders need help seeing the impact of the web on their ability to meet their goals.  Coaches can help leaders to unpack their webs by digging deep into a current or past challenge.  Isabel and I drew a web of relationships on a big piece of butcher paper on her wall.  We named the key players and interest groups on her team, and how they connected to each other.  We thought about each person or group individually in terms of what they valued, their relationships, and their power to either support or challenge progress toward Isabel's goal.  As we worked, Isabel began to see how her actions created dissonance for her people, and how their reactions were actually consistent with what they valued. Isabel's biggest a-ha: their actions are predictable!  Her resistance melted away as she began to see the power in predicting her team's reactions and proactively engaging to avoid being ambushed.
Isabel and I then applied the web to moving forward towards her goal.  We began by identifying her supporters.  She was unpleasantly surprised to realize how few she had.  From there we identified which people or groups were most likely to become supporters with some effective engagement from Isabel.
The key to getting that engagement was Isabel's ability to figure out what these people valued, and what they needed from her. 
One person valued his standing on the team.  He needed an apology, and to be consulted on the new model.   Another group worried about the impact of the new approach on families.  They needed Isabel to affirm this worry and collaborate with them to find a solution.  Isabel had no idea what several people or groups needed, and realized that she needed to go find out.
Next, we focused on the people in the web who were actively resisting the new system.  I supported Isabel to build some empathy for these people–to see the noble story they were likely telling themselves that justified their actions.  Then I helped her understand the tactics these folks were using to influence other stakeholders across the web.  Again, Isabel had to figure out what these people needed from her to move from resistance to motivation, or at least compliance.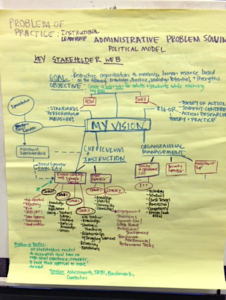 As she brainstormed, Isabel was building new appreciation for the range of influencing strategies she needed to embrace to get her organizational web behind her initiative.
By the time we were done, Isabel had created a complex visual representation of her stakeholders and their values, power, and relationships.  While this was all done in the context of her after-school system, Isabel realized that she could apply most of this map–reactively or proactively–to other leadership challenges.  We continued to use this map, or create new ones, over time as Isabel continued to build her organizational awareness.   Happily, she is no longer the fly caught in her web, and is on her way to becoming the spider.
Recommended reading: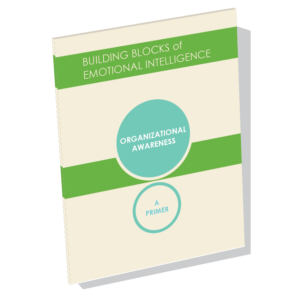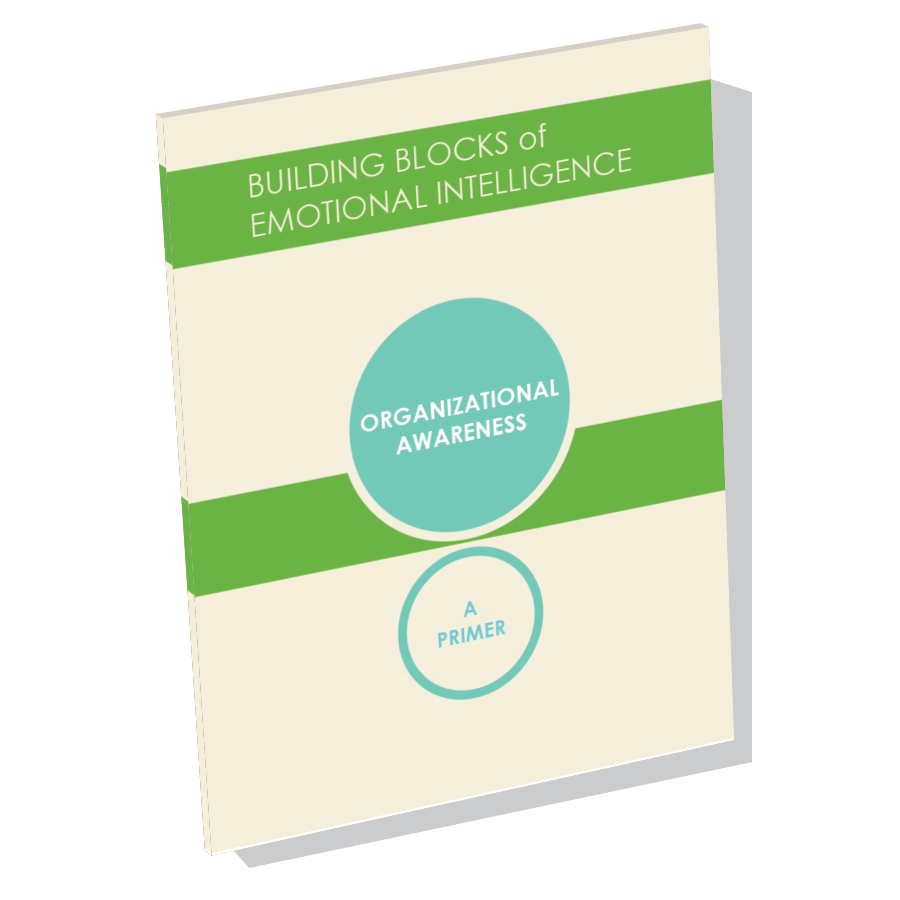 Our new primer series is written by Daniel Goleman, George Pitagorsky, and fellow thought leaders in the field of Emotional Intelligence and research. See our latest release: Organizational Awareness: A Primer for more insights on how this applies in leadership.
Additional primers include:
<!- View not found ->