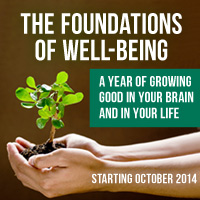 By Rick HansonWe have natural needs to feel seen, understood, recognized, included, and valued. There's nothing wrong with this! Having these needs fulfilled, particularly during childhood has a variety of positive consequences:
secure attachment
resilience
self-regulation
optimism
self-worth
exploration.
The resources that fulfill these needs are sometimes called "healthy narcissistic supplies."
On the other hand, not meeting our interpersonal needs can lead to insecure attachment, reactivity, poor self-control, pessimism, inadequacy, and withdrawal.
Whether positive or negative, these traits often carry over from childhood to adulthood.
There is a place for healthy remorse in a moral person. But for most people, the shame spectrum of feelings is far too prominent in their psychology – typically not so much in terms of feeling chronic shame, but in terms of how they pull back from fully expressing themselves to avoid the awful experience of a shaming attack.
Some of these feelings include:
Inadequacy – Sense of being unfit, useless, not up to the task, inferior, mediocre, worthlessness, less than, one down, devalued
Humiliation – Embarrassment, disgrace, degradation, loss of face, slap in the face, comedown
Guilt – I did something bad; [I know it]
Shame – I am something bad; [they know it]
Remorse – Contrition, regret over wrong-doing, feeling abashed, self-reproach, conscience-stricken
These are powerful, sometimes crippling, even lethal emotions (e.g., people killing themselves for the blots they think they placed on their family's honor).
"Confidence" in the deepest sense is an umbrella term referring to a sense of worth in your core – that you are loved and lovable, giving and contributing, valued, and a good person. Building confidence requires us to repeatedly internalize a sense of worth. This enables us to go for the gold, knowing that there's a goodness inside that we can rely upon in times of trouble.
Shame is a very primal emotion, it grew and evolved with us through millions of years of evolutionary history, and as such it can be a difficult feeling to combat. To fight against it we need to develop a deep reservoir of inner resources which we can draw upon in a time of need.
Cultivate Inner Allies
In effect, we grow strong "inner allies" that protect us from our "inner critics." To function in life, we need to learn from our experiences, and that requires feedback. We have to look in the mirror and see if there's some spinach stuck in our teeth. We need that internal evaluator continually registering: that worked and that didn't; that helped and that hurt.
As long as the evaluator is clear-eyed and friendly, that's a wonderful internal resource. But if it grows harsh – often through absorbing the emotional residues of the anger and contempt of others, or the meanings derived from social exclusions – it can become a terrible monkey on your back. That's the inner critic.
The process of growing inner strengths is the focus of my new online course The Foundations of Well-Being, which covers the 12 Pillars of Well-Being including Self-Caring, Mindfulness, Learning, Vitality, Gratitude, Confidence, Calm, Motivation, Intimacy, Courage, Aspiration, and Service.
To grow inner strengths – particularly the key inner strengths that will help the most with an issue – consider the four questions below. You can use them for yourself or explore them with others. Throughout, it's good to have an attitude of curiosity, kindness toward oneself, and resourcefulness.
What's the issue?
Pick an issue. (Maybe you're the rare person with just one.) Try to be reasonably specific. "Life sucks" could feel unfortunately true, but it doesn't help you focus on resources or solutions.
If the issue is located in your world or body, be mindful of how it affects you psychologically. Sometimes we just can't do anything about a condition in the world or body, but at least we can do something about our reactions to it.
What psychological resource – inner strength – if it were more present in your mind, would really help with this issue?
This is the key question. It can be interestingly difficult to answer, so an initial confusion or struggle with it is common. Clues toward an answer could come from exploring these questions:
• What – if you felt or thought it more – would make things better?
• What – if you had felt it more as a child, or whenever the issue began – would have made a big difference?
• Does the issue ever get better for you – and if so, what factors in your mind (e.g., perspectives, feelings, motivations) help it be better?
• Deep down, related to this issue, what does your heart long for?
There could be more than one resource, of course, but for simplicity and focus, it does help to zero in on just one or two key resources at a time.
Sometimes we need to grow an intermediate resource (e.g., capacity to tolerate feeling rejected, so that we are willing to risk experiencing that feeling) in order to get at the key resource we need to develop inside (e.g., inclination to ask for love).
How could you have experiences of this inner strength?
In other words, how could you activate it in your mind so that you can install it in your brain? (This is the first step – Have – of the HEAL process; you can learn more about it in my book, Hardwiring Happiness, or in this video on Taking in the Good.)
It could be that the resource is already present and you just need to notice it (e.g., the feeling that the body is basically alright right now). But often, you need to deliberately create it (e.g., call up a sense of determination from the emotional/somatic memory of times you pushed through a difficulty). In Hardwiring Happiness, I go through 16 ways to have (to activate) a beneficial experience, and you could draw upon one or more of these methods.
How could you help this experience of the inner strength really sink in to you?
In other words, how could you enhance the installation, the neural encoding, of this experience to grow this resource inside yourself?
This involves the second and third steps of the HEAL process: Enrich and Absorb.
If you like, you can be aware of both the resource (e.g., feeling determined) and one or more psychological aspects of the issue (e.g., feeling helpless) so that the resource starts associating with and helping with these aspects of the issue.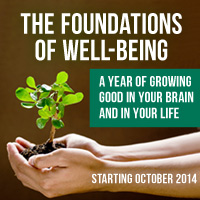 The Foundations of Well-Being program uses the power of positive neuroplasticity to hardwire more happiness, resilience, self-worth, love, and peace into your brain and your life.
This yearlong, online program is taught by Rick Hanson, Ph.D. – a neuropsychologist and Senior Fellow of the Greater Good Science Center at the University of California, Berkeley, and the New York Times bestselling author of Hardwiring Happiness, Buddha's Brain, Just One Thing, and Mother Nurture.
Additional resources from Rick Hanson:
Managing the Caveman Brain in the 21st Century – The human brain evolved in three stages: reptile, mammal, and primate. Each stage has a core motivation: avoid harm, approach reward, and attach to "us." Modern life challenges these ancient neural systems with bombardments of threat messages, the endless stimulation of desire, and social disconnections and tensions of industrial, multicultural societies. This talk from the Bridging the Hearts and Minds of Youth Conference will explore brain-savvy ways to cultivate mindfulness in young people, and then use that mindfulness to internalize a greater sense of strength and safety, contentment, and being loved.
SaveSave