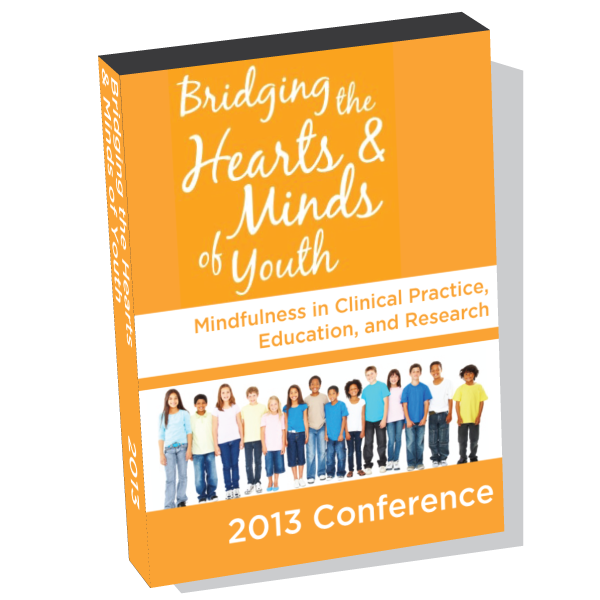 Bridging the Hearts and Minds of Youth 2013: Mindfulness in Clinical Practice, Education and Research
Format:
Streaming Video
Streaming Video
Mindful Educator Resources
Over the last decade, an increasing number of parents, educators, and clinicians have studied and experienced the benefits of bringing mindfulness practice to youth. To help develop best practices within this growing movement, the University of California San Diego's School of Medicine and Center for Mindfulness, along with Stressed Teens, developed the Bridging Hearts and Minds of Youth conference. The 2013 conference videos provide today's mindful educator with resources to introduce mindfulness into the classroom.
Watch Mindful Educator Video Resources

Befriending Your Mind, Befriending Your Life:  Mindfulness and the Endless Adventure of Growing into Yourself, Jon Kabat-Zinn
Mindful Awareness and Education in the 21st Century, Tish Jennings
Whack-A-Mole vs. Inner Peace: Turning Toward the Difficult as a Hallmark of Mindfulness-Based Interventions, Margaret Cullen
Cultivating the Inner Lives of Students and Teachers, Linda Lantieri
Plus RESEARCH SYMPOSIA on the Clinical Applications of Mindfulness, and Applications of Mindfulness for School Settings:
The Effects of Trait Mindfulness and a Brief Mindful-Attention Intervention on Pain Among Youth, Mark Petter
Mindfulness-Based Stress Reduction for HIV-Infected Urban Youth: A Randomized, Controlled Trial, Erica Sibinga, MD
Examining the Effectiveness of Mindfulness for Treating Children with ASD and ADHD, Bernadette Evans-Smith, PhD
Watch Excerpts from the 2013 Conference
Tish Jennings
Jon Kabat-Zinn
Linda Lantieri
More Mindful Educator Resources
Bridging the Hearts and Minds of Youth Conference 2012 - includes presentations from Susan Kaiser-Greenland, Rick Hanson, Amishi Jha, Megan Cowan, Amy Saltzman and more.
Focus Back-to-School Bundle - a collection of resources for educators, school administrators and parents to help introduce students to focus-related techniques and concepts.
The Triple Focus: A New Approach to Education - Daniel Goleman and Peter Senge provide educators with a rationale for incorporating three core skill sets in the classroom""understanding self, other, and the larger systems within which we operate""and show why these competencies are needed to help students navigate a fast-paced world of increasing distraction and growing interconnectedness. The book also offers examples of model educational programs that include these competencies in their curriculum, and shares best practices for introducing them in schools.
<!- View not found ->