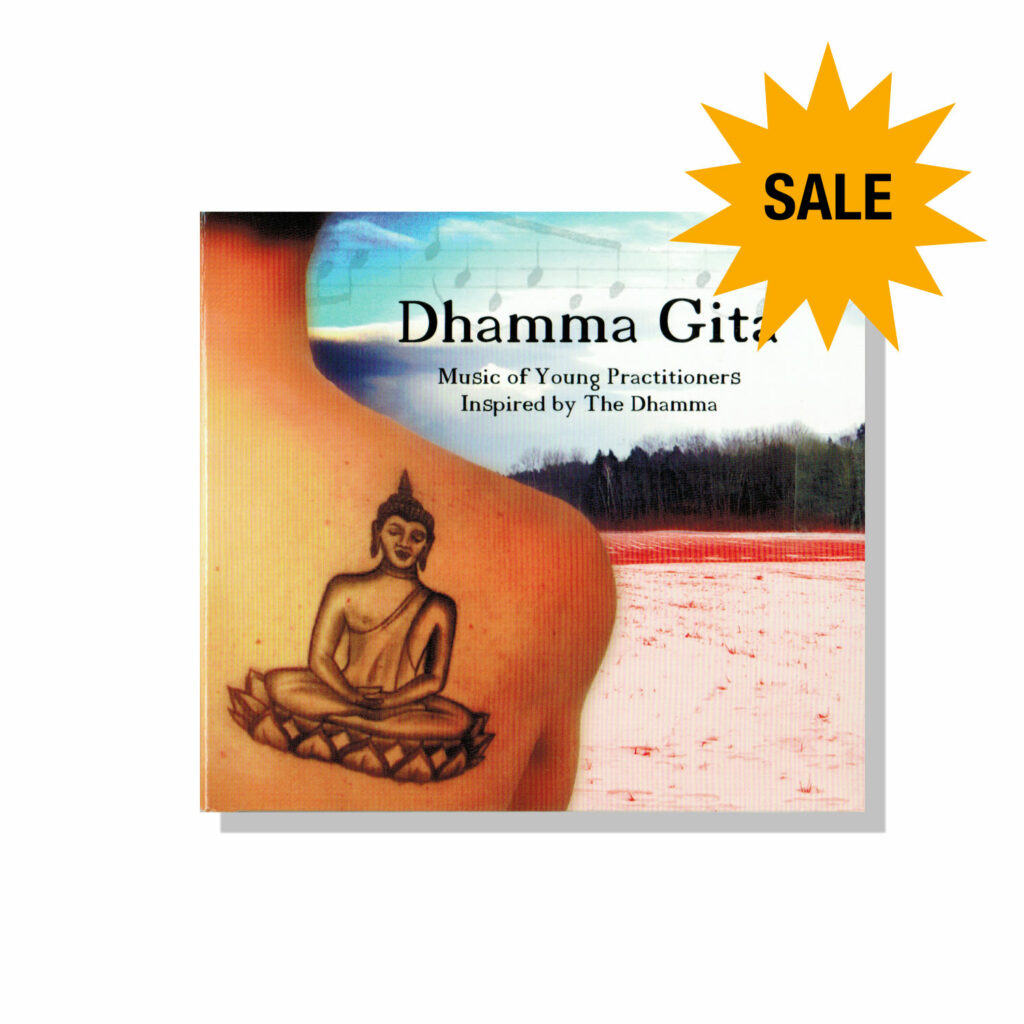 Dhamma Gita: Music of Young Practitioners Inspired by The Dhamma
Format:
CD
CD
Available as a physical audio compact disc.
This compilation album offers a taste of the varied, beautiful forms of Dharma-inspired music made by young practitioners.
"A spectacular offering. Taking refuge in Dhamma finds new expression in the amazing talent and creativity of these young musicians. Dhamma Gita is a joy to listen to." - Joseph Goldstein 
"One listen and these tracks are tattooed into my brain! Playful, thoughtful, and diverse - Dhamma Gita is my favorite Buddhist album of this lifetime." - Sumi Kim
The inspiration of this album came from our own experience with the vast creative space of meditation practice, coupled with a hope to represent the unique voice of a new generation of young Buddhists. So we went begging songs from Buddhist youth around Western world, and we got back some true jewels. Few of the young artists on this album define themselves as Buddhist musicians. Yet they are musicians who practice Buddhism, and the songs on Dhamma Gita arose from insights gained in their practice. Practice uncovers wisdom, formless of itself, given voice through the work of the practitioner and conditioned by the context of this life. These songs are present manifestations of that timeless, formless wisdom, expressed with creativity and with the joy of discovery. This is today's Dhamma music.
Tracks:
White Lines - Dave Smith and the Country Rebels
Sut Nam - Tori Heller
Ki Ki So So - Ravenna Michalsen
Witness - Travis Callison
Faith - Michaela Lucas
Lu Shan Cha - Jay Harper
Bedtime Waltz - Brad Gibson
Let It Ache -  Heather Maloney
Hello Mister June Bug - Lela Roy
Rabbit Horns - Duncan Ross
Matters How You Pray - Eva Mohn
Lama Care for Me - Monique Rhodes
Yer Gonna Git You - Ladyfinger
Swell - Lucky Vita
<!- View not found ->